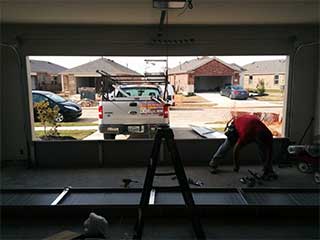 Although you can carry out the majority of maintenance work yourself, this can be time consuming, and you may realize you lack the knowledge (or the tools) necessary to service your own door.
Noise Reduction through Maintenance
The noise your door makes can be reduced just by tightening loose nuts and bolts, but the problem is not always that simple. Next on the list of troublemakers are rollers. Our technicians might suggest you switch to nylon rollers, because metal ones make more noise and require more maintenance even when they are well lubricated and undamaged. Hinges can also make screeching and grinding sounds and lubrication can help if there are no cracks. But if there is a cracked hinge, the only solution is replacement, and not only for noise reduction, but for your safety as well!
Door Panel Replacement
You can expect greater durability and better performance if you have regular and timely maintenance of your door. Panels can warp or sustain damage for many reasons: usual wear and tear, lack of maintenance (especially if you have a wooden door), exposure to harsh weather conditions, broken parts, impact damage and quality of material/installation. Small scratches and dents will eventually become a safety issue, so it's better to fix them as soon as possible. And while it is possible to replace just the damaged panel, matching a new panel to the color of your door (faded overtime due to sunlight and aging) might be a more difficult and costly task.
Off-Track Garage Door
The most common reasons for garage door derailment (besides hitting it with a car) are broken cables, low quality parts, and even loose bolts! For example, if horizontal tracks are not made from strong enough steel, they can bend under the weight of the door. Poor quality rollers can break and cause other rollers to break as well or they can come off the tracks. And something as small as a bolt can cause more problems than just a rattling noise - if a bracket has loosened bolts it will wobble at the slightest vibrations and the tracks will move from their position and become misaligned. Hire Garage Door Repair Farmington to inspect your system and handle any pressing problems.
Need more? We also provide:
Liftmaster Garage Door Maintenance
Belt Drive Garage Door Openers
Garage Door Extension Spring Replacement
Overhead Door Installation